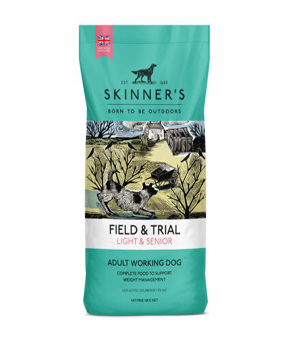 Skinners Field & Trial Light & Senior
Easily digestible with lower protein & fat levels to assist weight loss and management.
Skinners Field & Trial Light & Senior food can benefit your dog in a number of ways, including:

Maintain healthy teeth and bones.

Supports immune system.

Helps improve stamina.

Helps protect joints.

Helps maintain a healthy coat.

Maintains strong muscles.

Field & Trial Light and Senior is a complete dog food, specially developed and formulated for any dog that requires a less energy dense diet. Typically, these dogs are older or less active dogs and those who may be predisposed to weight gain!

With a formulation that includes reduced levels of fat and protein, Light and Senior is an ideal diet for any dog that needs dietary support (in addition to exercise and other lifestyle management!) to maintain a healthy weight and body condition and can be fed both in meals and as treats as a holistic weight management strategy.
| | | | | |
| --- | --- | --- | --- | --- |
| | | | | |
| | | | | |
| | | | | |
| | | | | |
| | | | | |
| | | | | |
| | | | | |
| | | | | |
| | | | | |