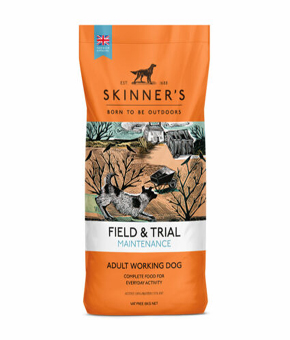 Skinners Field & Trail Maintenance
Formulated to meet the needs of working dogs undertaking light work or at rest.
Skinners Field & Trial Maintenance food can benefit your dog in a number of ways, including:

Maintain healthy teeth and bones.

Supports immune system.

Helps improve stamina.

Helps protect joints.

Helps maintain a healthy coat.

Maintains strong muscles.

Field & Trial Maintenance is a complete dog food, specially developed and formulated to support dogs with a low to moderate activity level. Maintenance is also suitable for dogs who have a reduced activity level or who are prone to weight gain on some of our other working dog formulations and dogs who might be resting or recovering out of season and so do not require an energy dense feed. This can help to reduce energy intake and help prevent excess weight gain.

Maintenance has been formulated with a protein level (18%) and fat level (11%) to support normal day-to-day activity and provides everything your dog requires to remain happy and healthy.
| | | | | |
| --- | --- | --- | --- | --- |
| | | | | |
| | | | | |
| | | | | |
| | | | | |
| | | | | |
| | | | | |
| | | | | |
| | | | | |
| | | | | |